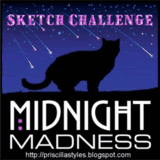 WOW...I just came across this Midnight Madness Sketch Challenge Blog yesterday and linked the badge up here in my sidebar and in my "Candy Bar" over there, but didn't realize that TONIGHT IS THE DEADLINE for last week's sketch! Aaaack! So, I hurried and made a sketch card with one of the super cute Anyas that a friend stamped and sent me. I made it very sparkly, although with it this late it was hard to capture all that in the photo :( So here's a close up:
I used my Martha Stewart snowflake punch and rubbed two-way glue on them and sprinkled Dazzling Diamonds on top. After watercoloring my Anya, I did the same with her muff, and furry parts on her outfit, cause y'all know that girls LOVE sparkly things...even girls with greying hair! LOL (eh-em... no, I did not have my friend in mind when making this, although it prolly could be if we could all see her natural color! ROTFL - Just kidding!!) Besides, I think greying hair is beautiful! I'm a redhead so I've been told mine will turn white. Huh...I wouldn't know! Teeheee...OH ALRIGHT ALREADY!! I've pulled a few I spose. HEY, how did I even get on this subject?!! sheesh!
And here is my full card:
You can see the sketch and read all about the delicious CANDY involved over <HERE> but you have to get it entered by MIDNIGHT tonight!! Good luck everyone!
EDITED TO ADD: Just found out that this particular sketch is not due until midnight NEXT TUESDAY! lol - so knock yourself out!